AdventureCapital
Wanted: an investment partner for the big adventure
Going to stratosphere "Lighter than air"
Traditional airships operate at altitudes up to 7000m, ordinary planes up to 12.000m. The stratosphere above 16.000m is free from human built long endurance flight vehicles. Unless we (TAO) will settle a world record of this kind – with one of our revolutionary SkyDragons, a segmented lighter than air vehicle designed for long endurance missions in the stratosphere.
Neil Armstrong wanted to leave his footprints on the moon - the Germany based TAO-Group has its own ambition to have a high altitude platform (SkyDragon) placed in the stratosphere and save a place in the book of records of this world.
The slogan today is "Adventure Stratosphere". The technology is prepared, the team is ready, the financing is sought. For this the TAO-Group is looking for people with visions and pioneering spirit and eager to leave their footprint in the history books of aviation as was explained by Prof. Dr. Bernd Kroeplin, the master mind behind this project. "The project is to accomplish the first long endurance flight mission in the lower stratosphere. This will introduce the representation of mankind in the last regime of the earth, where up to day permanent representation is not possible." Telecomunications and surveillance are the first goals.
The TAO-Technology: This will be a milestone to a number of based on a pace-making technology which is a multi-segmented airship conceived by the TAO-Group in Germany. The project will prove that this lighter than air vehicle has the capacity to stay for an undetermined period at an altitude of 20 km and accomplish various missions in telecommunication and surveillance.
A potential partner investing in this venture would in return have the opportunity to participate in all further PR-activities, in movies and internet publications. Such partner could also have a place in the marketing of the product.
For the last eleven years the TAO-Group under the leadership of Prof. Kroeplin has been building segmented airships to be used at high altitudes. These lighter than air vehicles combine the characteristics of a plane with the advantages of conventional airships. There is a tremendous demand in such technology for modern telecommunication, data transfers and instant infrastructure. In fact the SkyDragon technology give all the answers to tackle the problems of fast and high quality performance in these fields. Now time has come to harvest the fruits of this endeavor.
Be with us on track!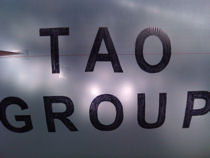 The world record project needs a new SkyDragon to be built. The envelope of the new airship can be made available as a highflying advertising and communication medium.
A detailed report on the matter can be read in the magazine "Finest Finance", appearing on 15th November 2010. A respective excerpt you find on our sites on "Tec-News".
For further information please send us a mail to info@tao-group.de