Helium Cloud – a floating Roof or a projection screen
Revival 2017 of our very successfull idea: our flying helium clouds for outdoor use in an automobile show.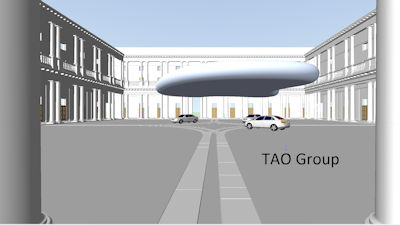 Aesthetic appeal: flying helium cloud without pillars or back up, with minimal bracing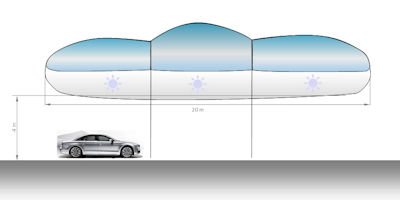 Looks like a cloud: with curves, in which we integrated the flexible rain drain

Cumulus squared: several clouds combined as a flying roof
You do not have enough room for a large projection screen?
You feel that new perspectives would be helpful?
Might be you have an air-based trial with your product trailer. An individually adapted air-floating ceiling for your fair stand attached with ropes to the ground. Bet you will surprise your visitors.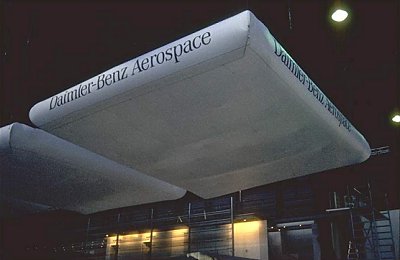 As perfect catch-eye this floating ceiling will have the attention of many visitors not only your own
Some field of application
floating ceiling for a show room ceiling at a fair, implemented in 1995 and 1997 for the EADS stand (before the name was DASA)
Aero Fair in Paris and in 1996 and 1998 at the ILA in Berlin
The helium cloud has also been used as floating projection screen.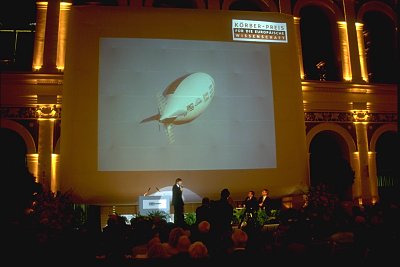 It served as projection screen at the prize remittance ceremony for the Körber Prize in 1999 in Hamburg
The chief attraction of the projection screen is hidden in the supporting structure inside. The supporting structure is composed of twelve gas-tight foil like pipes nine of which are filled with helium, two are serving as ballonets and one is filled with air. The fabric cover is made from material, which is fire protection accredited and is totally crease-free. The white material has very good properties of reflection. The dimensions of the Screen as shown are 11 meters broad and 9 meters high and 1.2 meters thick. The system can at any time be refilled with helium even during a presentation.
Premiere:
Remittance of the Körber Prize in the "Alten Börse" in Hamburg