A New Energy Storage for House Construction – for Heating and Cooling
We all know them: these tiny particles in sachets accompanying packing material for new cameras, hand bags or shoes. It is silica gel, little beads with a big impact. Because they are strongly hygroscopic and absorb water they protect valuable goods from moisture.
But now a similar concept could revolutionice house construction. Silica based material is used as storage for heating and cooling. The tiny beads in the energy saver are non-toxic, regenerable and consist of substances, which occurs abundantly in nature. Their use in an energy-saver is therefore an active contribution to the much-cited sustainability and conservation of resources.
This silica based product energy saver has been developed by TAO Trans. GmbH and the principle of the saver was worth an invitation of the ARD TV in "The Great Show about Wonders in Nature" with Frank Elstner and Ranga Yogeshwar. Although we were not allowed to show our original saver (no advertisement in public TV) but nevertheless we have planned and built the test set-up, have advised the editors, and were seated in the first row during recording the show. Great deal of fame for our tiny stars: the silica gel beads. For more information: press
The experiment in front of recording cameras has functioned perfectly. Admittedly, it has not been in any way as easy as it had looked on TV. Firstly you cannot take any silica gel for the energy saver, secondly you have to know how much water the little silica gel beads absorb, thirdly … etc.
Please visit our project:
The new TAO-Sorption-Storage
The new, state-of-the-art sorption storage (by TAO Trans. GmbH) has been erected in the "Icebear-Building" – designed and built particularly for this purpose – and is currently in the process of being tested. The storage will absorb enough heat throughout the summer in order to supply sufficient heat during the heating period in winter and will thus offer almost autarky.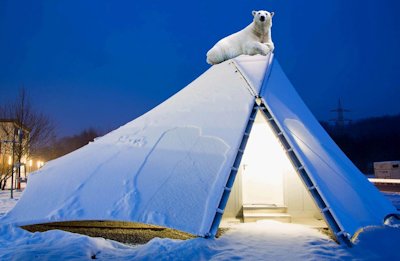 The experimental-building "Icebear-Building" in January 2013
The new TAO-Storage is a facility for heating and in special application for cooling as well:
Efficient warming and cooling of the indoors without consumption of electricity and without CO2-emission in an open system through thermo-chemical sorption
Utilization thus for of less used potential (recycling and further application) of process heat
Planning and erection of modular energy storage with high energetic density for dissipationfree transport and dissipationfree in medium and long term storage of energy (seasonal storage)
Saving electricity and warmth as combined energy
Among other usages:
Private households
Small industrial branches working in extreme heat (bakeries, restaurants, catering industry)
Nurseries and conventional thermal power stations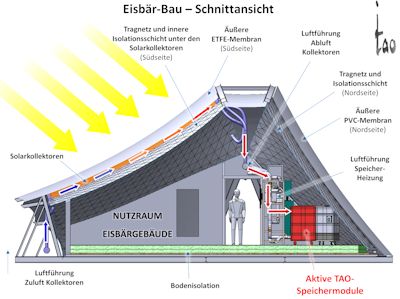 The storage puts to use the power of the sun
The advantages of the new TAO-Sorption Storage
self-sufficient without electricity,
economical, low maintenance, regenerative, no CO2,
innocuous, nontoxic, inflammable carriermaterial,
suitable for day-/nightcycles and seasonal saving.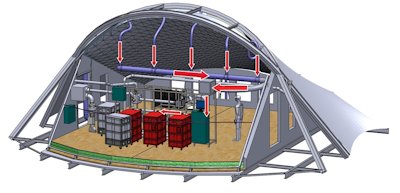 The TAO-Sorption storage in action (red)
The roof of the energy efficient "Icebear-Building" had been equipped with innovative membrane solar collectors, which transfer the warm air into the storage heating. There, the air will be kept in the special TAO-sorption storage and can provide the building many months later with warmth by way of the floor heating.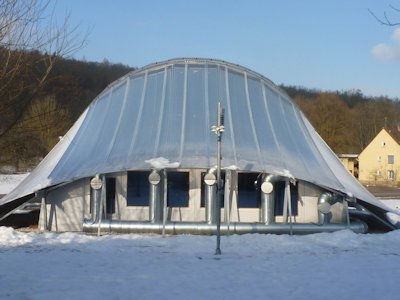 Sun light on the collectors conveys energy into the storage
Until now, light and extensively stretched roofs have often been built out of prestressed membranes. These membranes isolate hardly against heat and cold and consequently they are not qualified for residential- and non-residential buildings. The project "Icebear-Building", a joint project in the promotional program of environmental engineering of the Environmental Protection Agency of Baden-Württemberg, has changed this. The roofsurface of the membranes is designed as a solar air collector and the collected warmth is absorbed for cold times (night or winter) in the new TAO-storage, in which the warmth will be stored almost without deficit by a reversible physical process.